---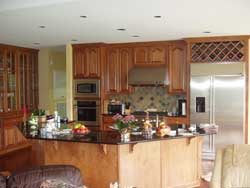 CAMPFIRE BEANS
as prepared by Greg Koontz at the Sky Country Lodge
Ingredients:
-Large can Bush's "Bold & Spicy" baked beans
-One large Texas sweet or Vidalia onion, chopped
-One medium green bell pepper, chopped
-One small red bell pepper, chopped
-Two cups fresh halved mushrooms
-12 oz. package thick-cut bacon
-Two tablespoons brown sugar
Cooking:
Drain beans and pour into large pot and slowly heat. Cook bacon in a large frying pan until done but not crisp. Set bacon aside to drain on paper towels. Drain off all but one teaspoon of bacon grease.
Sauté onions and peppers in a mixture of bacon grease and butter.
Add mushrooms to sauté when onions and peppers are beginning to get soft.
Cover and let simmer low to slowly cook mushrooms. Add brown sugar to beans. Break bacon into small pieces and add to beans. Drain sauté mix and add to beans.

EAT and ENJOY!
Healthier eating notes: There should be as many or more sautéed veggies as there are beans! I often omit the bacon and sauté with light oil to reduce my fat intake- your option. Another option is using turkey bacon, and/or sautéing with a non-stick, garlic-flavored cooking spray.
-Greg